A Note From Our Founder, Yushika Jolly
Back in 2013, one bad experience at a salon left me with a head of half bleached hair frantically searching for the perfect blue dye at local beauty shops, salons, and malls. The only colors available in the market were the standard blacks, browns, and reds that apparently 'best suit' Indian hair. Disappointed with the lack of availability of any fashion colors, I eventually settled for a deep brown shade in hopes of finding a way to resolve this unfortunate event on a better day.
Having always been fascinated by creatively colored hair, I started experimenting with my hair by playing around with factory dyes being manufactured by my family business. These were not branded, formulated hair colors, just regular dyes. Coloring my hair boosted my confidence and soon became an indispensable part of my self-expression. I was sure many felt the same way, only being held back due to the societal pressure to look a certain way.

In 2017 when I moved to London, I found a large variety of readily available fashion hair colors at local drugstores. This led to a year and a half of hair color experiments, trying products from every possible brand available, and weighing the pros and cons. I had become the go-to person for hair coloring advice. After returning to India, I once again faced the lack of readily available DIY hair color options. I decided to turn years of experiments with my hair color into the foundation for the brand that Paradyes is today.

Banking on my family business of dyes and intermediates, I teamed up with professionals and began R&D to formulate hair colors in our lab. The gorgeous range of colors we offer results from months of trials and development to bring you an experience of hair coloring like never before. I genuinely believe that our hair has a personality of its own, and I wanted to bring that out using hair color as a medium.

Unfortunately, the Indian market has such few options. I really want to change that; while breaking all the myths around hair coloring and giving people a way to express themselves. As always, the aim is to provide you, our customers, with affordable, easy to apply hair colors that not only look great but make you feel amazing! Here's to hoping that my journey and experiences with hair coloring resonate with you. Our product gives you the confidence to shine bright and bold, inside out.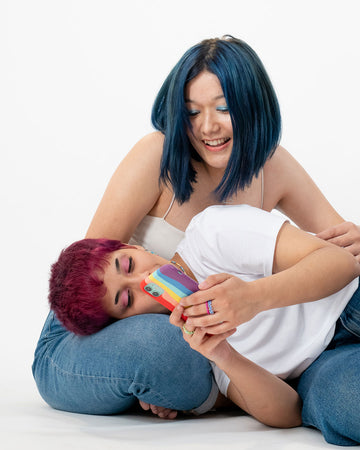 In a world full of stereotypes, breaking barriers is essential. Expressing yourself has never been more critical, and we're here to help facilitate that for you. Whether it's a dramatic change or a subtle one, it makes a difference. Paradyes is here to get you to wear that hair like the crown it is and let your confidence radiate inside out. Your hair can make a statement, too; it's a vital part of your personality. Ever-changing, vibrant, and confident, Paradyes semi-permanent hair color will give you that extra boost. Let that hair take center stage!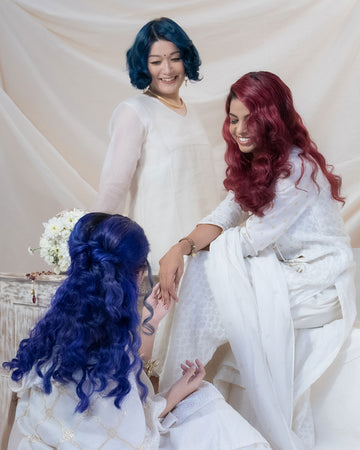 Just because Indian hair comes in darker shades, it doesn't have to be sidelined. If big and bold is too extreme for you, then worry not. Paradyes semi-permanent hair color brings beautiful hues to life on varying darker shades of natural hair also. We're here to change the narrative around hair coloring among the Indian audience. It is not against our 'sanskaar' and is not a commentary on our 'Indian morals and values.' It's time to free our society from the shackles of these taboos and typecasts, one head at a time. Whoever said desi can't go crazy hasn't tried our product yet ;)
There are several myths about the damage that coloring might cause to your hair. Unfortunately, there is a severe lack of understanding around the common question of 'to color or not to color?'. With Paradyes semi-permanent hair colors, the answer is quite simple – Yes! Definitely color. We are here to inform our customers and audience about how they can experiment and style their hair without damaging them! Our products are Ammonia-free, Paraben-free, PPD-free, and Damage-free. We're also always striving to reinvent ourselves in the hair-cosmetic industry and continuously add to our spectrum of colors. More for us, more for you!
We at Paradyes care about the Environment. Along with our mission to provide you with the most vibrant colors, we also believe in conserving the natural hues. Full disclosure: While we are in the early stages of practicing 100% sustainability within our brand and product, we have taken a few steps to minimize wastage and be as eco-friendly as possible (baby steps, right?). Our hair dyes come in glass jars with tin caps, brushes made of 60% bamboo fiber. The glass jars are also reusable after a thorough wash! While the gloves and conditioner sachets are made of plastic material due to the lack of better alternatives, we aim to find alternatives in the near future.